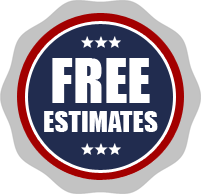 While your gutters may not be functioning properly, the problems you're facing may not warrant replacing the entire gutter system. If your structure is suffering from minimal gutter damage, you may only need to invest in gutter repair. In Jacksonville and the surrounding areas, Gutters & Covers LLC performs gutter repair services that will quickly have your gutters performing better than ever.

Don't put yourself in harm's way by attempting to fix gutter damage on your own. You would be surprised at the amount of accidents caused by homeowners trying to handle roof or gutter repairs that should be left to the professionals. At Jacksonville gutter repair company, Gutters & Covers LLC, we guarantee to provide services that are affordable and efficient. You will be so pleased with our work that you'll never have to resort to the do-it-yourself route again!
Typical Gutter Damage in Jacksonville
Whether caused by severe weather, or just years of wear and tear, your gutters will eventually begin to show signs of damage. We offer gutter repair in Jacksonville designed to fix any of your problems.
From sagging to rusting, Gutters & Covers LLC has the tools and knowledge to provide an efficient solution to ensure that all rainwater is being drained properly.

If you've noticed your gutters aren't functioning properly, you may be suffering from these common types of gutter damage regularly encountered by our Jacksonville gutter repair company:

Improper Sloping
Separating from Roof
Gutter Repair Services for Jacksonville FL–Ponte Vedra FL–St. Augustine FL
Repairing gutters for Jacksonville homes may not seem to be a very difficult task. However, if the proper precautions aren't taken, it can become a dangerous and costly task. With gutter repair services in Jacksonville from Gutters & Covers LLC, you won't have to worry about any ladder accidents or short-lived solutions to your problems.

We are committed to repairing gutters in Jacksonville with affordable services and long-lasting work. You can avoid the following issues by employing the professionals from Gutters & Covers LLC:
Further Gutter Damage—When you leave damaged gutters unrepaired, you can go from needing a simple fix,
to having to replace your entire gutter system.

Roof Damage—If your damaged gutters become too heavy with water, they can rip away from your roof, and cause roof damage.

Water Damage—If your gutters aren't draining properly, overflowing water can cause water damage to your home's structure.

Contact Gutters & Covers LLC to learn about our 10-year labor warranties on residential work! We provide gutter repair in Jacksonville, Ponte Vedra, St. Augustine, Orange Park, Jacksonville Beach, Atlantic Beach, Neptune Beach, Middleburg and Green Cove Springs, Florida.