The Importance of Gutter Protection for Homes and Businesses
Gutters may seem like a simple product, but they are an incredible part of your home. By collecting rainwater from your roof and diverting it away from your home, they protect your foundation and your siding.
Such a simple and inconspicuous fixture has an incredible effect on the safety, beauty, and value of your home. So contact us today and see to it that your home is protected!
Gutter Protection
Gutters are essential to shield your home or business from water damage, so it's incredibly important to implement routine gutter protection as part of your home maintenance. When your gutters are left unprotected, different forms of debris can clog the flow of runoff water from your roof. This includes debris such as:

All of this debris can create blockages either in the gutter or downspout, which slows down or completely halts its ability to divert water. The buildup of clogging materials can cause permanent damage to your home's gutters, as well as create large amounts of water to overflow from them. This constant overflow of water can create problems, such as leaky roofs, mold damage, dry rot, paint damage, soil erosion, and much more. By ensuring your home has gutter protection, our company can help you maintain the condition of your home far into the future.
Instead of digging leaves out and wasting your time, why not prevent such debris from settling in your gutters in the first place? The Leaf Relief protection system is a grill-like attachment that guards against debris buildup. It prevents leaves and twigs from settling in the gutter. Instead, they remain on the grill for easy cleanup. You can practically sweep debris away! What's more, our technicians install these systems for a fraction of the cost of other gutter protection brands.
Offering Improvements for Your Home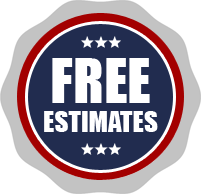 Installing quality gutters on your home is a great way to add value to your property. Accenting your exterior design and improving the efficiency of your runoff, these gutters will pay off in many ways. Trust our contractors to assess your needs and create an installation that works for you! We will even remove your old fixtures to make way for the new.
Contact us and see to it that your home is protected from the damaging effects of runoff rainwater. Call us in Jacksonville, FL, today.