While the soffit and fascia of your home provide a functional purpose, they are also important for creating a cohesive and attractive appearance for the exterior of your structure. When you need to replace or install soffit and fascia in Jacksonville, you can depend on Gutters & Covers LLC. With nearly 10 years of experience, we are able to provide functional solutions that will truly enhance the curb appeal of your home.
With a variety of options, we offer soffit and fascia in Jacksonville that guarantee to meet all of your needs. From performance to appearance, our high-quality products and expert installation will surpass your expectations. At Gutters & Covers LLC, we provide affordable replacements and installations for any home.
Soffit for Jacksonville Homes

Soffit is considered a critical part of your home's ventilation plan. Located on the underside of the overhanging eaves of your roof, soffit performs a number of practical functions needed to help protect your home from the effects of heat. When your soffit in Jacksonville becomes damaged, it can lead to more extensive harm, such as roof and drywall damage.

The following are all problems that can be avoided with new soffit installation from Jacksonville Gutters & Covers LLC:

Rot
Pest Infestation
Drywall Water Damage

Insulation Water Damage
Detached Gutters

Sheathing Water Damage
Framing Water Damage
Benefits of Vented Soffit–Jacksonville FL–Ponte Vedra FL
When you want to ensure that the ventilation of your home is functioning at the optimum level, you should invest in vented soffit. Jacksonville residents will experience the best results of temperature control with this unique system. The following are all benefits of vented soffits:
Minimizes Dangers of Trapped Heat
Helps Equalize Temperature of Attic and Outside Temperatures

Allows Air Conditioning to Work More Easily
Works with Vents Further up on Roof to Allow Heat to Escape from Attic

Fascia Installation in Jacksonville FL–Ponte Vedra FL–St. Augustine FL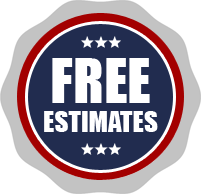 If you are considering installing new soffits, you should definitely consider adding fascia. Jacksonville homeowners often forget about this protective component of the roof. Located in between the shingles and soffits, this protective layer helps provide an air-tight seal between your home and its soffits. With fascia, your Jacksonville home will be one step closer to complete weather and water protection!

For fascia installation in Jacksonville, you can count on Gutters & Covers LLC. With options like textured and traditional, you can achieve the performance and appearance you want from your new soffits and fascia.
We install soffits and fascia for homes in Jacksonville, Ponte Vedra, St. Augustine, Orange Park, Jacksonville Beach, Atlantic Beach, Neptune Beach, Middleburg and Green Cove Springs, Florida. Contact Gutters & Covers today to learn more about our residential labor warranties!